Blis DailyDefence with BLIS K12™, 30 Lozenges
Sidebar
Blis DailyDefence with BLIS K12™, 30 Lozenges
: ORAGEN4-straw
: Available:
Product Description
DailyDefence with BLIS K12™ is a scientifically developed oral probiotic that helps support your natural immune system at the gateway to your body – the mouth and throat.
Product Details
• Your daily dose of good probiotic bacteria to benefit the mouth & throat.​
• Every day, what you eat, drink and breathe introduces new unfavourable bacteria that try their best to displace the beneficial bacteria. This continuous struggle for space can cause a change or imbalance of the beneficial bacteria in the mouth and throat, which can then affect your overall health and wellbeing. ​
• Taken daily, DailyDefence with BLIS K12™ leaves no room for harmful bacteria. ​
• DailyDefence utilises BLIS K12™, a new generation of advanced oral probiotics, developed from a special strain of beneficial bacteria ​Streptococcus salivarius K12 (BLIS K12™) that is found to occur naturally in the mouths & throats of healthy adults and children. While everyone has these bacteria in their oral cavity, very few (2-5%) have high enough quantities of this specific strain to be effective.Ingredients

Ingredients
• 30 Lozenges per pack.​
• Per Dose: Isomalt, Tableting Aids, Streptococcus salivarius K12 (contains at least 1.25 billion cfu/dose), we measure the bacteria count in CFU: colony forming units at the date of manufacture, Natural Flavour.​
• Made on equipment that also processes milk and soy.​
• Always read the label and use as directed. If symptoms persist, see your healthcare professional.

Instructions for use
• For best results, slowly dissolve one lozenge on the tongue, 1-2 times a day, ideally after brushing teeth. In times of high need, take a maximum of 4 lozenges per day.​
• DailyDefence works best if eating or drinking can be avoided for at least 30 minutes after taking. The longer BLIS K12™ is in your mouth, the better the colonisation will be and the more the unwanted bacteria can be crowded out.​
• Recommended for ages 3 and over. DailyDefence can be taken during pregnancy and while breastfeeding.​
• Do not take DailyDefence while taking antibiotics. If you have an immune compromised condition, please seek your doctor's advice before taking this product.​
• Store below 25C.​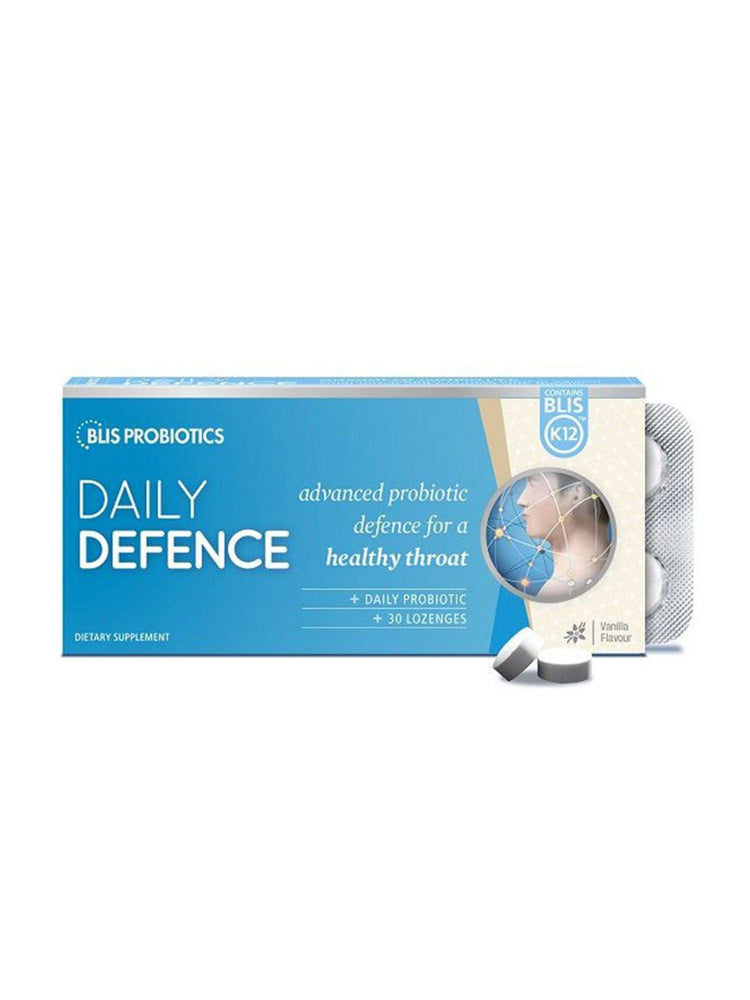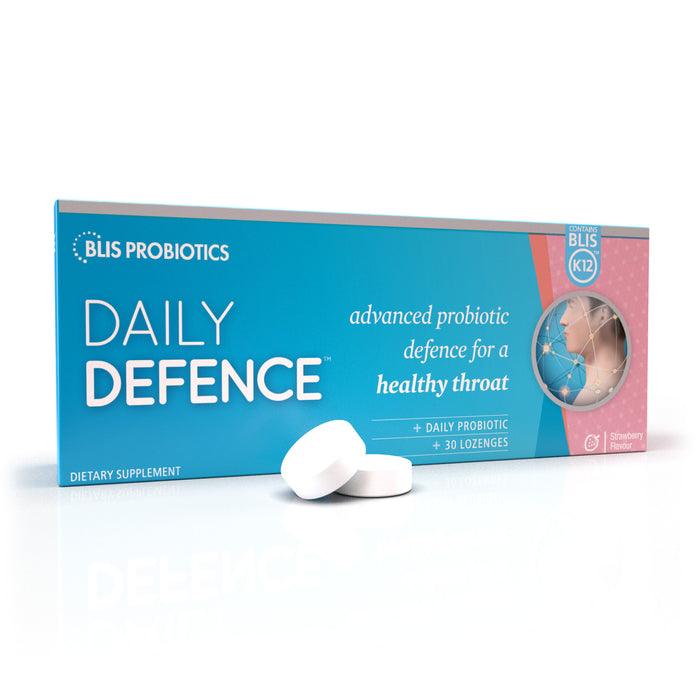 Blis DailyDefence with BLIS K12™, 30 Lozenges