Water Jug
It's fine, took awaile to figure out how to stop the lid from falling off. but now all good.
Sidebar
Alka Jug, Capacity 3.5 L/Filtration Capacity 2 L (white)
Product Description
The Alka Jug turns ordinary water into alkaline ionized mineral water. It is made from NON BPA plastic.

It increases the pH of drinking water from the nominal 7 to a range of about 9 to 9.5pH, which has many health benefits attributed. 'A radical new "Alkalizing" media that can raise the pH of water to the 9 - 10 range very quickly, but does not allow the pH to elevate to undesirable levels even after extended contact. 


"Drinking healthy alkaline ionized water is a simple, most effective way to Alkalize, Hydrate, Detoxify and Mineralize the body. Alkaline water can slowly reverse the aging process, which is a gradual process of acid waste accumulation. It is very effective because the water penetrates deeply to dissolve and remove toxins from the body. There are many health benefits to drinking alkaline ionized mineral water."  Karin Ma - CEO of manufacturer
 Note: Electric Cartridge Life Indicator is non-operational
Capacity of pitcher: 3.5liter gross. Filtration capacity effective 2 liter

Filter materials: Active carbon, Ion Exchange resin, negative potential particles, Bio minerals, FIR (infrared ceramic energy beads)

ph: 9 - 9.5 *depending on water source

ORP: -100 to -200mV (Oxidation reduction potential/Antioxidant capacity: - 300 to -400mV), *depending on water source

Offers small water molecule cluster size

Contains alkalising minerals

Soft and great tasting water

BPA Free materials
The media in the ALKA JUG cartridge is composed according to a special design, which is unique in the world to IONZA water ionizers:

Filtration media: activated carbon, it is to absorb chlorine, odour, colour, heavy metals and purifies the water.  The manufacturer uses Calgon Activated Carbon which is imported from USA, which has better adsorbability and higher cost than normal carbon.

Mineral media:

 1. Far-Infra-Red Energy Beads: it is made out of natural infrared raw materials, which add maifanshi stone and seabed minerals that contain useful trace elements, manufactured with a ceramic technology method. In the Far-Infra-Red process, the organisms absorb frequencies of 8-14um which has 90%+ infrared emissivity. The released infrared energy can be easily absorbed, producing smaller water molecule clusters.

 2. Negative Ion Minerals: The ALKA JUG media dispenses ionic minerals into the source water offering negatively charged ions for improved absorption of minerals by your body. 

 3. Minerals and useful trace elements: The ALKA JUG cartridge is adding to your water essential minerals and trace elements, such as magnesium, strontium, lithium, silicium, zinc, selenium, calcium, potassium - and many more, up to 90 minerals and rare trace elements assisting healthy functioning of your body.

Convenience:

Easy grip handle
Easy fill pitcher
Easy to replace cartridge

Money saved: Each filter can produce 300 liters of delicious Ionized alkaline water, which saves 500 bottles of water

Note: The digital life indicator is non-operational, so we recommend using  pH testing drops,  so you can see the difference of your source water's pH and the resulting alkaline water from the Alka Jug. Further it offers a real assessment of the remaining life of the cartridge's capacity to alkalise. pH testing drops can be purchased from our store.
What do medical doctors say:
Dr Kathleen Wills- Medical Doctor, Doctor of Natural Medicine, and Clinical Nutritionist, practicing integrative medicine in Auckland - has been appreciating her Alka Jug:

 "I personally have used the Ionza Alka Jug in my own household long term- it is the best tasting water I have tried (I did a blind taste test comparing 5 different types of water) which means I keep myself hydrated, and I have experienced reduced stomach acidity and my skin has improved.  In my practice, I often recommend the Ionza product for anyone wanting to have a detox from years of unhealthy eating habits, a stressful lifestyle or someone who just has trouble drinking enough water". 
What some of our clients say:
Hi 
I wanted to let you know how incredible the ionised water from the Alka Jug has been since first purchasing it from you on 23 Sept 2012.  Within a month of drinking and cooking in alkaline water and taking all my veges raw as mixed salads, I was free of the muscle aches that had been with me since 2005.  Two years ago I was diagnosed with Irritable Bowel Syndrome and I have been on a gluten free diet for that time and a low FODMAP diet for the past year. I had been advised that the aches that I was experiencing were fibromyalgia.  There had been no cure advised and so to have the condition disappear within a month of starting the alkaline water has felt like a miracle.  I feel transformed in mind and body - no longer do I feel that I am trapped in this old body.  I just generally feel better, healthier and more alive than previously.  It could not be mind over matter. It has to be the water. 
Cheers
Anne Martin 
Hi


This note is a validation of the Alka Jug... As an old bloke, I had been hobbling around with an attack of gout, which I endured for about eight weeks. It was so bad that I had to cut out my shoe to relief the pain and to remain mobile. Now as one who considers the doctors and Pharma are in bed together not pulling the blankets over their heads - but pulling the wool over the public I decided to seek alternative measures to avoid the side effect of a prescribed drug ...


 The alternative relief for arthritis is boundless as per the net ... From diet of course to such remedies as celery seeds to cherries to beet root. I tried the lot to no avail. However as I was surfing the net I dropped onto this fact and I don't know how I got there -- maybe it ws the - fickle finger of fate - that the pH of the body was up. The Boo Eye ... How to remedy this condition ? Well the rest is history. Somehow I latch on to your website and the Alka Jug and made the purchase.

This was a great days work on my part as within two weeks of a daily consumption of 1.5 liters of treated water the condition that I suffered was GONE.

The condition changed for the better day by day bringing me untold relief ... So there you are .... I am so impressed with your product that I have ordered another one to be delivered with the intention of gifting it to my grandchildren who when ever they are in my space say .... POPA ... CAN WE HAVE SOME OF YOUR WATER .....

Graeme Sim,  Taumaranui
Lots of clients say something along the lines:

"I love the water, I enjoy the taste ... I have more energy, my pain has lifted ..."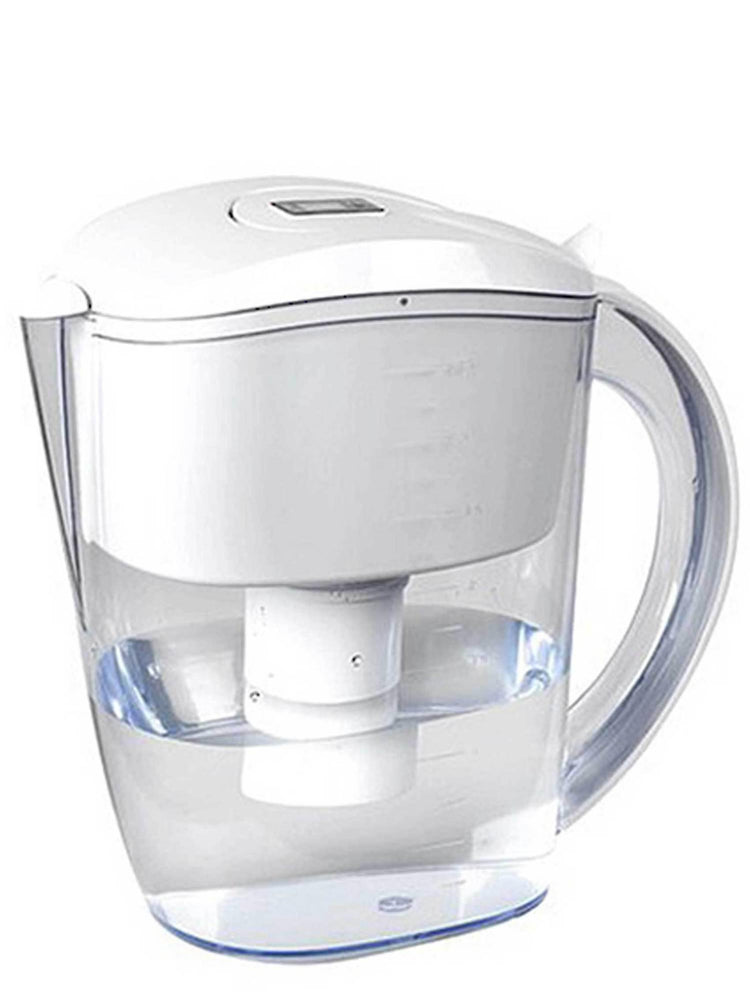 Water Jug
It's fine, took awaile to figure out how to stop the lid from falling off. but now all good.